Wednesday 970205
If you tried to read our home page yesterday - you couldn't. The server of our provider was down the whole day. We are very sorry about this, but now we are back with new stories.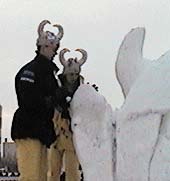 8:00 Breakfast. This time they had lots of food for everyone. They obviously learned something from the day before. At the breakfast table we decided the tactics for today's sculpture-work. The tactics were to make the sculpture look as much as possible like a Viking . Great tactics, right?
9.00 This was when we were allowed to start sculpturing. We were of course a bit late, but after a few hours' work you could see the face, and the shield also came forward in the snow block.We realized we still had a lot of snow to remove and we even had to use our great barb wire saw again.
11:00 Sugimoto-san, the newly elected president for Hokkaido-Sweden Society, and his colleages came to visit us at the sculpture. They where very thoughtful and brought us coffee, rather they had a catering company bring us coffee, and they also brought cookies and presents for us in order to support us in our work. Thanks for the visit!
11.40 Today's schedule included a lunch with the Secretary of Honorary Consulate of Sweden in Sapporo, Ms Kawai. We met her at Korakuen Hotel where we were going to a Chinese restaurant. As we entered the restaurant, we were guided into a private room for five. And there we where in our wet "snow-clothes" and our stupid hats. We took off our jackets and shoes before Malin and Helena realized they had to go to the ladies room. But at a really nice hotel you can go to the "ladies" room in your wet socks without any problems. We had excellent Chinese food and it was very nice to take a break and sit down for a while. After lunch Ms Kawai accompanied us to our Viking to see how it was doing. She seemed to like it.
15:00 After two hours of more HARD work, Malin's "host-mother" from her student time in Hokkaido four years ago, visited us. Malin was happy to see her, and we all decided on going out on Saturday. We continued our work on the Viking, which was getting closer and closer to "the real thing". There was a lot of snow to get rid of, and Per worked so hard that both his shirts were soaking wet. Itīs nice with a little bit of hard work.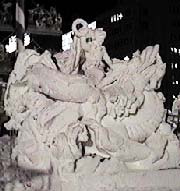 16:00 Asaoka-san from Per's and Jan's office, Science and Technology office - Embassy of Sweden, called on our mobile phone and told us that they couldn't access the home page. Helena went in to the "Teams quarters" to check what was wrong. It seemed that IAC (Internet Access Center), our Internet provider, had hardware problems and the server was down, and would be so for while ahead. Catastrophy!! Here we buy a one year Internet connection that will be focused on ONE WEEK and this week they are able to mess it up!! Baaaaaaad. -
16:10 Continue with the sculpture! Malin works on the helmet with guidance from Helena. One person on top of the Viking's head, and another out among the audience to get a good view for eye measurement. By now however the helmet was taking itīs shape, and we were getting more and more surprised by the fact that there actually was a Viking inside that snow block. Jan was working hard on the sword, and Per was working on the shield, as well as removing some snow. Sometimes too much, but there are tricks on getting the snow back on itīs right place.
18:30 Ericsson - one of our sponsors - had organized a small gathering together with their customer - DTD. They brought wine, beer and - amazake. Amazake is what you get left over when you make sake. It was tasty and warming. We sang some songs for them and presents were exchanged. Everyone seemed to be happy and they all liked the statue (we assume).
21:00 Today's working-day will be over within one hour, so we decided to take a look at the other statues to get some ideas, and to see how they are doing. WOW!!! Some of the teams are professional kitchen artists and their sculptures look fantastic. Itīs wonderful too see them work. Especially the teams from the warm Southeast Asian countries make the most beautiful sculptures and they all of course have their own tools with them. Above you can see the sculpture by the Chinese team. These guys make sculptures in food or ice for big hotels and they are quite good!!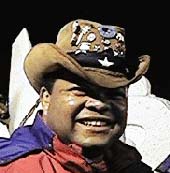 22:00 Timeīs up!! No more work. We are all warned in time by a Japanese/English voice in the loudspeaker. Attention Please. Attention please. There is only 10 more minutes left. Please clean up and return your tools. Attention please. .... all the tools have to be put away by 22:00 every evening. After that, the bulldozer with itīs very skillful driver removes the snow that is not to be used. Itīs a lot of snow laying around everywhere after a days work. After the end of the day (and during the day as well) everyone gathers in the "Teams quarter, a small building for getting warm and eating food and things like that. Some teams leave right away after ten oīclock, but some stay to drink some beer and talk a little. Today - The Danes where "very happy" after having some fun in their bar. They have a nice bar next to their sculpture, were they serve "Gammeldansk". Itīs a lot of fun to meet all the team members from the other teams. Some teams are very serious and donīt talk to us much. Some are serious, but still having a lot of fun. Some are having fun but still trying to do a nice sculpture (like us) and some are just having fun! On the picture you can see Gunny from the USA-team. Tomorrow we will have more fun.