The Malaysian Snow Statue - Giant Leatherback Turtles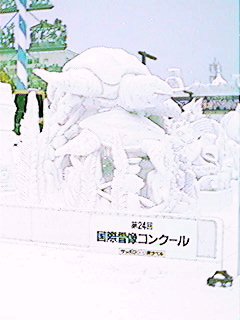 Every year for thousands of years, from May to September, Rantau Abang beach in Trengganu - Malaysia, has been visited by giant leatherback turtles. They lay a hundred or more eggs at one time. The beach is very popular as a tourist destination.
The Malaysian Team Members
(No picture yet)

Jafri Mohamed - Kitchen Artist
Young Chong Meng - Kitchen Artist
Harun Jalil - Kitchen Artist
Mohamad Hisyam Tahir - Kitchen Artist
Companions:
Mr and Mrs Junus Suhid

The sculpturing progress
Pictures from Wednesday (above) and Thursday (below - insurance to prevent the snow from falling).
---
---
[Diary] [Progress] [The Team] [Contact us] [Schedule] [Sponsors] [Home]
E-mail:

VIKING VENTURE