The Singapore Snow Statue - New Asia Singapore
Singapore is a modern, Sophisticated and Cosmopolitan city. Annually over one million Japanese visitors enjoy Singapore experience. Natural attractions include the Jurong Bird Park, South east Asia's largest bird park, and the 87-hectares Sungel Buloh Nature Park.
The Singapore Team Members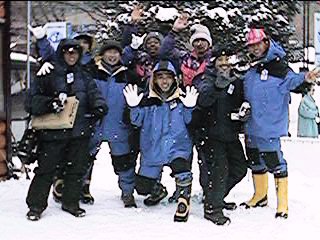 (.. among others. Singapore in blue clothes

Peng Tse - Kitchen Artist
Wee Eng Guan - Chef Decorator
Ng Wah Keng - Chef Decorator
Chua Say Eng - Chef Decorator
Companions:
Chua Pek Geok
Ryohei Shibata
The sculpturing progress
Pictures from Wednesday (above) and Saturday (below). As you can see unfortunately this beautiful sculpture collapsed due to warm weather before the festival was over (as well as other sculptures). Before it fell - the Singarpore team was awarded Champions (2nd best price) for their creation.



---
---
[Diary] [Progress] [The Team] [Contact us] [Schedule] [Sponsors] [Home]
E-mail:

VIKING VENTURE